Let's be honest: first impressions matter, so when I met Sonia Martínez from SOS personal shopper in Madrid at a International Women Business's event, I couldn't help but be in awe of her useful and on-point fashion tips. She discovered my color scheme, my best colors are warm ones, which has cut my shopping time in half since now I can scan the clothes in a shop and automatically discard ones that I know won't be my best.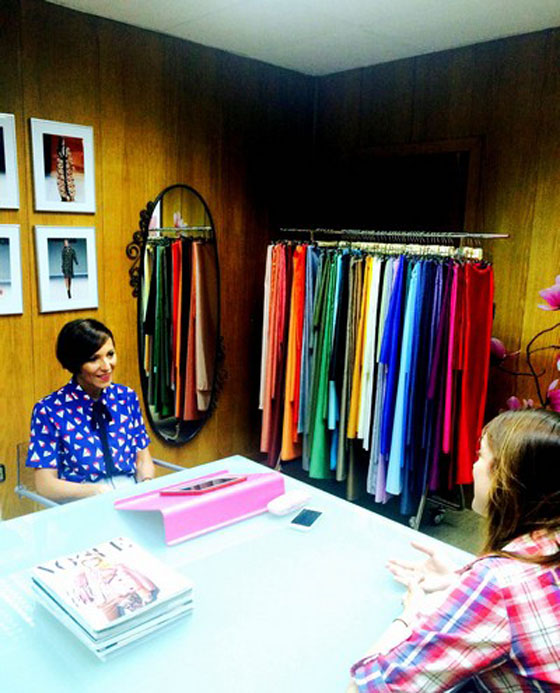 I met with Sonia Martínez from SOS Personal Shopper in her adorable and stylish office.
Eager to learn more about her and what she did, I asked to meet up with her and find out more about this chic Madrid chick. We met at her office where she does the assessments.
Cj: Hi Sonia! You're work is very intriguing to me and something that I realized when I met you, is that you're very passionate about what you do.
Sonia: I love it. Let's see, I think that passion is one of the most important elements of anything you do. If you aren't passionate about it, it's very difficult that you'll make it far. I love the fashion world and I've been working in fashion all my life.
Cj: When someone uses the term 'personal shopper', what does that mean?
Sonia: People are a little confused about this term. Almost everyone thinks about American movies with the typical person following around an affluent person shopping but it's much more than that. Nowadays, a personal shopper is an image consultant that can also go shopping with you. Before going shopping with someone, it's very important to first do a complete study on the person you're assessing. It's important to pay attention to the person's physical shape, their lifestyle, their likes, what colors works for them, which items of clothing to use, which clothes they shouldn't use. This is very important in order to get right the services of personal shopper. It's a combination of things.
Cj: What's your typical client like?
Sonia: My clientele are very normal people. People like you and I, usually between 26 and 45 years old, although I've had 60-year-olds come in, too. Normally it's people worried about their image, middle class, that for whatever reason in life they feel like or find necessary to assess their image.  It could be because of a change in jobs, maybe they've got a raise and will lead more meetings or travel more and need to give off a more important image. Sometimes it's people who are going through a separation or that simply want to feel better about themselves and find out about personal shoppers and want to try it out. Also, a lot of people get the service as a gift, which is a great present because it's different and surprising. People who receive it as a gift are very pleased with the experience.
Cj: What vision do you have for your blog?
Sonia: I have the blog because I sincerely like it, I want to write and explain what I do. It's not the typical fashion blog where I take photos of myself. I want to show everything I know through the blog especially when in comes to fashion. We have a post every other day, publishing on Mondays, Wednesdays and Fridays. The posts focus on trends, news in the fashion world and health and beauty tips. I want my followers to know what to wear and spread my knowldge in a useful way to the readers. If I've got a little extra time, I include an extra post giving personal shopper tips but that's only if I have time.
Cj: What's your favorite part about being a personal shopper?
Sonia: What I most like is the assessment process, when you get to know the person and can give them advice that makes them feel identified and increases their confidence. They feel better and are usually surprised about how much they learn. The most fulfillinf part is when it's apparent that they're satified with my work.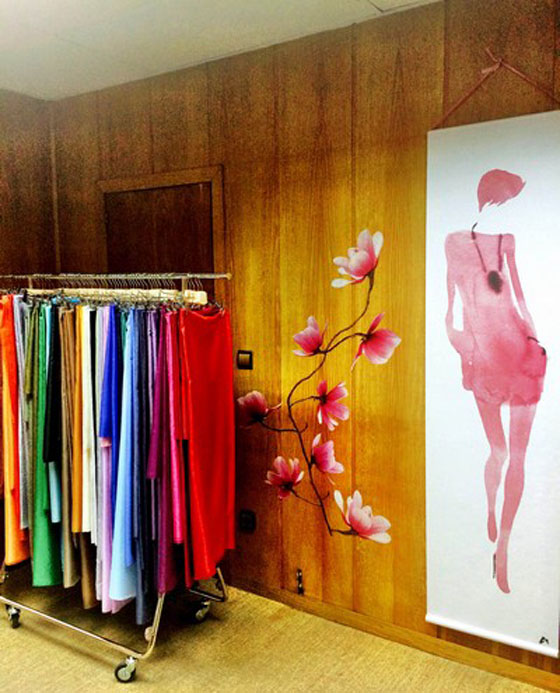 Sonia uses the colored textiles hanging on the rack to find the perfect color scheme for her clients.
Cj: That brings me to my next question, what would a typical session with you be like?
Sonia: There are several services that I offer but the one I recommend is 'Your ideal style' because then I can get to know perfectly the image of the person before assessing them. First I start with a questionnaire asking the person's likes, physical characteristic sheet and lifestyle, like where they work and how important is their social life. This way I know where to focus during the shopping tour and what they need in their wardrobe. After filling in the questionnaire, I do a study about what colors scheme is perfect for them based on their skin, eye and hair color, and their silhouette to see how to accentuate their strengths and conceal their weaknesses. We give them tricks on different accessories and try on what they should and shouldn't wear. Then, we do an analysis on the facial characteristics to recommend different hairstyles and type of makeup. Once the assessment is done, if the client has hired the shopping tour, we do that another day. The initial assessment is two to three hours and then within the week I give the client a detailed report about everything we talked about with photos so that it's very clear. During that week, I prepare where to go and what to show them so that we don't waste time during the shopping tour.
Cj: Do you do group sessions as well?
Sonia: Yes, they work very similarly depending on what the group want. Usually it's what we call an 'Express' assessment. It's very fun and dynamic and the group interacts with each other giving their opinions. It's like a class where I explain everything about colors and silhouettes.
Cj: Last question, can you give us a pro personal shopper tip?
Sonia: Wearing colors is extremely important because they accentuate our virtues and transmit a lot of energy. Black shows insecurity, it's a sophisticated color and can make us look slimmer, for night events and special occasions. However, using black constantly shows insecurity and little energy. People can be a little shy to dress in color but then when they try it out, the people around them realize it and tell them how great they look. You might wonder why you're getting more compliments but it has a lot to do with the color you're wearing. In the end, neutral colors don't transmit anything. Colors transmit happiness, energy, closeness and a bunch of other things. So you can use neutral colors for the lower part of the body but in the upper part, always use colors so that people want to look at your face. Black is a sad color and it can make your face look older because it shows more intensely wrinkles.
Cj: Great tip, Sonia! I must go shopping to get some more colors in my wardrobe. Thank you so much for taking the time to talk with us.
To learn more about Sonia and SOS Personal Shopper, you can visit her website, and for incredible fashion and beauty tips and to keep up with the trends, follow her colorful blog full of useful information.
http://madridnofilter.com/sos-personal-shopper-in-madrid/